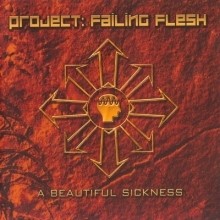 Project: Failing Flesh

A Beautiful Sickness
You might have read an interview earlier with the American Project: Failing Flesh. At that time, Tim Gutierrez, one of the key figures of the band answered my questions, so this time I would not include the necessary biographies and discographies this time. I believe my interrogation was pretty thorough so let's see what the guys have put together five years ago…
The music of Project: Failing Flesh can best be described as post-trash metal due to its experimental nature. One can hear unique ideas that point way beyond the usual threshing and flopping of trash metal. The over 40 minutes long record was released by Karmageddon Media, with two different covers: the one that I got from Tim does not even slightly resemble the one that can be found on the internet. Basically we have a Voivod-like concept with some industrial effects here and there, as well as a huge dose of sci-fi and social criticism, and of course heavier and more melodic aspects.
Each and every song contains some kind of odd, weird idea; yet they together give the big picture. The best example is 9mm Movie, in which the virtuoso melodies of the bass even excels that of Apocalyptica's. In addition to all the classical elements, we can mention Taste of the Lie which follows the tradition of noise and industrial genres. They even added a Venom cover (Warhead) which is at least as dirty and thick as the late Prong… A Beatiful Sickness (as the title suggests) is beautiful and twisted at the same time. I could go on and on about it since the guys created one extraordinary record. 
The sound is heavy and perfect (sometimes even turns into death metal) the instruments and the various moods express pain and terror with intense switches. We've got heavy riffs, beautiful solos at some places underlined by awesome keyboard. If you were a fan of Eric Forrest's voice and what he did in Voivod, you might already know, or if not, you should definitely get acquainted with Project: Failing Flesh. In fact, everyone who is interested in a band that is not forced behind usual concepts and the whole hybrid-like metal scene, I can only recommend this band to you! It's unbelievably intense, experimental and catchy, that deserves to have a place in the collection of every mature music-fan!